USPS Tracking & Signature Confirmation
Rest Assured Your Packages Are At Their Destination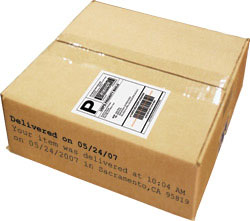 Your packages are important to you – with USPS Tracking, you can see when they arrive at their destination; and with Signature Confirmation, you can make sure someone is there to sign for them. Either way, Endicia lets you use these services from your desk and saves you money, because Endicia's electronic services are highly discounted compared to the retail rates.
Endicia's electronic USPS Tracking is free for Priority Mail and only $0.18 for FCPS, Media Mail, Parcel Post, and Library Mail, so you'll save $0.61-$0.70 per package. Endicia's electronic Signature Confirmation is only $2.10 for all these mail classes, saving you $0.45 per package each time you use it. When you use Delivery or Signature Confirmation, your rates for Endicia Parcel Insurance and some 3rd Party Insurance will also be lower.
Domestic Packages with
Delivery or Signature Confirmation
Post
Office
Endicia
Rate
Annual Savings with Endicia
1/day
5/day
25/day
Priority Mail + USPS Tracking
$0.70
$0.00
$182.00
$910.00
$4,550.00
Other Mail Class + USPS Tracking
$0.80
$0.19
$158.00
$793.00
$3,965.00
Any Mail Class + Signature Confirmation
$2.55
$2.10
$117.00
$585.00
$2,925.00
Electronic Delivery or Signature Confirmation enables Endicia's Delivery Statistics*, which give you a report card of how quickly your packages are being delivered. When combined with SCAN, electronic Delivery & Signature Confirmation give you end-to-end shipment status, so you have proof when the package is picked up and when it is delivered.
Read about companies using this feature: