Domestic Mail
If You Can Send It At The Post Office, You Can Print It With Endicia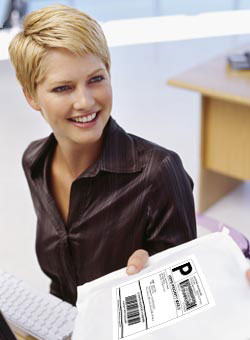 A sweater to Anchorage, a DVD to a Navy base, a signed lease to Chicago by tomorrow, a letter to Boston, or a postcard to Portland – from 1 oz to 70 lbs, the US Postal Service has mailing and shipping solutions to meet your needs, and Endicia takes care of printing postage-paid labels for them, right from your desk.
Endicia lets you print complete, prepaid postage for any single-piece domestic mail class offered at the USPS Retail Counter, including military (APO/FPO) addresses. Whether it's First-Class Mail, Priority Mail, Express Mail, Media Mail, Library Mail, or Parcel Post – choose your mail class and print with Endicia to save time. Endicia computes the exact postage you need, so you don't overpay for postage or risk your packages arriving to your customer postage-due.
Endicia's complete prepaid shipping labels include address verification to avoid returned mail and speed delivery to your destination, discounted Delivery and Signature Confirmation to save money with every package, and low-cost Endicia Parcel Insurance to save even more money. Plus, Endicia lets you protect your Shipping & Handling profit margins and avoid angry customer support calls by hiding the postage amounts from your shipping labels with Stealth Indicia*.
Customize your shipping labels and envelopes with your logo and messages to project a professional image and promote your brand. And, if it's just a letter or a postcard you need to send, Printable Postage labels make quick work of your occasional mail.