Scale Integration
Streamline Shipping & Apply Exact Postage With One Click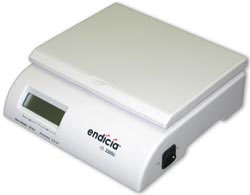 While you don't have to use an integrated scale to mail and ship with Endicia, it can sure save you time and headaches. You'll streamline shipping and avoid the embarrassment of postage-due delivery or returned packages without overpaying for postage.
Your reputation with your customers and your online ratings depend on professional shipping and timely delivery. A package arriving to your customer postage-due because the weight was underestimated is a sure path to negative ratings. Even worse, a package returned to you for insufficient postage will cost you twice to ship and will arrive late – things you do not want to risk.
Imagine – instead of weighing your package on a mechanical scale, worrying whether you should round up or round down the weight, and typing or selecting it; simply place the package on a scale connected to your computer and press the Weigh button. With scale integration, Endicia retrieves the weight from the scale and rounds it up correctly for you. You'll ensure timely delivery without overpaying postage "just to be on the safe side". It's that easy.
Endicia supports many popular scales. For a list, please visit our FAQ.