Stealth Postage
Protect Your Profit Margins & Keep Your Customers Smiling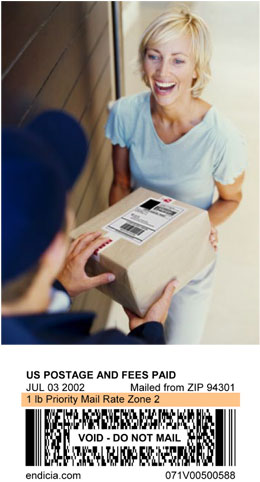 You ship products to your customers and you need to charge Shipping and Handling (S&H) fees to cover a variety of expenses, including postage, packaging material, insurance, labor, overhead and yes, a profit margin. Unfortunately, customers confuse S&H fees with postage charges. When a package bearing a stamp, a postage meter strip, or a post office payment arrives at a customer's doorstep, it plainly and boldly displays the postage amount you paid. Instead of the joy of receiving an eagerly anticipated package, your customer's attention is drawn to the cost of the package.
This highlighted disparity between the postage fees and S&H charges gives the customer a perception of being gouged - even if you have the lowest S&H fees in your field. This usually angers the customer and causes you extra support cost, lost sales, poor customer satisfaction, and lost customer goodwill. Think of the feedback on your account!
Luckily, Stealth Indicia lets you side-step the entire problem by hiding the postage amount from the package label. The postage amount is replaced by a key-line that includes the weight, mail class, and rate zone. The Postal Service uses this key-line with other tools to validate the postage on packages. Stealth Indicia can be used on Express Mail, Global Express Mail and all mail with electronic Delivery or Signature Confirmation, including: Priority Mail, First Class Parcels, and Package Services. It is not available on First Class letters or non-tracked International Mail.