ShipTicket is design to help you and your mailroom coordinator efficiently get your packages to their destination. You - as the ShipTicket user - know more than anyone about the person you are shipping to, as well as the services you want associated with the delivery (e.g., insurance). Use ShipTicket to define all of that information and then print a "ticket" on plain paper which you can tape to your package.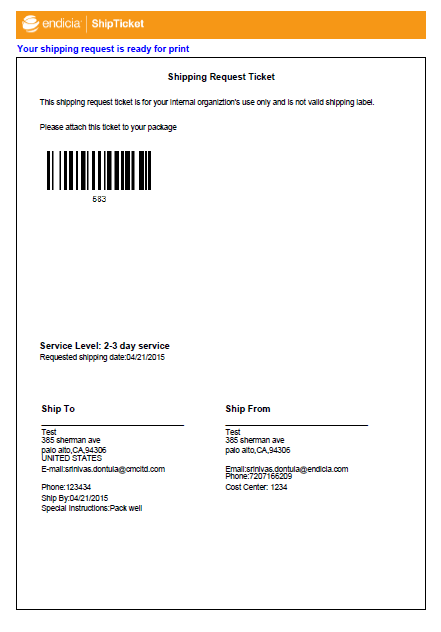 When your package (with ShipTicket) reaches your mailroom, the mailroom professional will input the ShipTicket ID number into Endicia Professional software and print a live, USPS shipping label without having to type a single letter! Your entire request will be honored and the package weight will be accurately recorded using the mailroom's scale. ShipTicket saves time and avoids transcription errors! You and your package recipient will receive an email with the USPS tracking number and ship date.
There are two ways you can use ShipTicket. If you sign-up with ShipTicket (it's free!), you can run the ShipTicket web application anywhere and it will remember all of your sender information. If you'd rather not signup, you can just use the main screen and rely on your browser's cookies to save your sender information. The downsides of the latter approach are a) if you clear your browser's history you will often lose the cookie information and thus your sender information and b) if you need to access ShipTicket from multiple PC's, you'll have to input your sender's information on each PC and c) if multiple user's share the same PC for ShipTicket, they will constantly need to input their information when creating a ticket for their recipient.
In most cases it will be easiest for you to sign up, We use your email address as the logon ID and you choose your password. Once logged on you can edit your information and change your password.
There are two sender values that are of particular importance. The Organizational ID is a number which your mailroom manager will assign to you. It can be any number provided every user served by the mailroom uses the same number. Be sure you get this number from your mailroom coordinator before you start creating ShipTickets.
The Cost Center is a required field which can be used to charge back postage to a your department or project. You should also coordinate that value with your mailroom manager.
COPYRIGHT NOTICE. Copyright © 1999-2017 Endicia. All rights reserved. Covered by and/or for use with U.S. Patents 8,374,970; 8,386,341; 8,762,290.